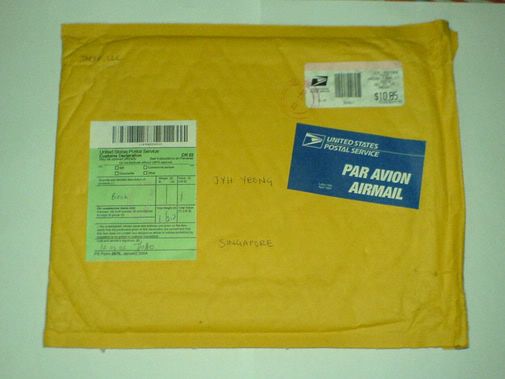 As 2005 draws to a close, I wanted to take this opportunity to summarize my open-source initiative, "Use New Marketing to Prove New Marketing," where I offered up a free copy of my book, "Life after the 30-second spot" to any business/marketing/advertising blogger or podcaster who agreed to review my book.
The original post is here and as you'll see, it alone attracted about 62 comments (making it the second highest commented post of Jaffe Juice's history; the highest was my Nike commercial with 109)
In short, I've sent out about 100 books to the four corners of the globe - including the likes of Netherlands, the UK, Canada, Mexico, Singapore, Australia, Spain, Italy, South Africa and of course the US...and the list continues.
By now, most people have the book in hand (and once again...if you requested a book, but haven't received it, please e-mail me and I'll look into it) and reviews have started to come in. I'm glad to say that they have been positive to extremely positive.
Part of what makes this is a unique exercise (after all, authors and their publicists always send out galley copies of the book to media outlets, critics, even influential blogs) is the following:
This exercise does not discriminate - it is not about courting the "high reach" outlets. It is a long term investment (long tail) in the community as a whole - as defined by EVERY one of its members. For this reason, ANYONE who requested received a book, irrespective of their readership
It was not designed to necessarily "bypass" mainstream media (I'm still extremely open to this book or the story of this exercise being covered by any media outlet), but by the same token, I wasn't going to sit on my a$$ and wait for them to discover the book, its central themes and the passion and conviction behind the message.
The free book for review swap is unconditional
The review itself is completely unconditional as well...in other words, I'm completely opening myself to any kind of review, but my conviction in the content arms me with confidence that the reactions will be consistent with all feedback I've received to date.
To those who are in the process of reading and ultimately, reviewing...please make sure that you include a direct link to either Amazon.com (here's the link) or to www.lifeafter30.com - this is a three-part excercise after all: 1) demonstrate the power of the blogosphere/podosphere, 2) validate new marketing and 3) show ROI/ability to result in sales i.e. there is walk behind the talk.
Also, if you're finished with the book and have completed the review AND want to return it to me (but you certainly don't have to), I'll use the book for additional request in 2006.
Speaking of which, phase 1 is essentially complete. I am not sending out new books right now, but am looking for a "sponsor" to provide a budget for a phase two wave of new books to prospective reviewers. Phase 1 was a organic approach and I feel that a more formalized layer on top of this would not be out of place...in fact would play up an important integrated proof point: this is not about replacing the old with the new; it's about adding, redistributing (budget), reordering (chronologically) and prioritizing (strategically)
So with that said, here is the FULL list of my progress to date (requests, reviews) PLUS for the first time, some stats from my Amazon Affiliate account i.e. number of views of the book on Amazon (from www.lifeafter30.com and any links from my/your blogs) and actual purchases. They're not earth shattering yet...but the operative word is YET :) They also represent only part piece of the pie (ain't that always the case), but at least it's a benchmark from here on...
Posted on Jaffe Juice, 11/9

Requests from the following blogs: EchoDitto, Strategic Public Relations, OK Dork, PSFK, Planning from the outside, My Name is Kate, Pop-PR, Ben Hamilton (Australia), The Vat (Australia), Adverblog (Netherlands), Simon Cox (UK), Pig Work (Australia), Noah Robinson, Marketing & Adbits, Twist Image, N=1, Marcom Blog, PRBlogs.org, InfOpinions, A New Marketing Commentator, Marketing Begins at Home, Inside Market Research, Shotgun Marketing Blog, Better Communications Blog (Australia), Pete Blackshaw (Intelliseek), J*Blog, Advertising for Peanuts, Newpersuasion Blog, A New Brand World (Norway), The Power of Influence (Singapore), Mobhappy, Trendgevoelig and Enthousiasmeren (Netherlands), Digikko (Finland), Antti Vilpponen (Finland),

Bernd Roethlingshoefer

(Germany), Life for Dummies (Chile), KD&E, AGWired, Coolz0r, Experience the Message, Ads that Suck (Canada), Ground 8 (Singapore), Pimp my Brain (Germany), Marc Orchant on http://office.weblogsinc.com, http://tabletpcs.weblogsinc.com, http://microsoft.weblogsinc.com, http://blogs.officezealot.com/marc, http://www.officezealot.com/gtd, http://astroprojects.com/morespace/, Culture Buzz (biggest French speaking blog covering France/ Luxembourg/ Belgium/ Switzerland), Bajo La Linea (Barcelona, Spain), Good Morning Ad Club (SoCal), Read Between the P's - Marketing Blog by Puru (India), On Message from Wagner Communications (Houston, Texas), Cambium Creative (St Louis, Missouri), PR Machine (NYC), A boy and his voice (Singapore), thinkjose (Johnson City, TN), MIT Laboratory for branding cultures and MIT Advertising Lab (Cambridge, MA), Business Creation (Milwaukee, WI), 800-CEO-Read and Hello World (South Africa), Adgitator (Stevens Point, WI), Star in the Margin (Pagosa Springs, CO), Frontiering Talk (Australia), Itchy Hands (Malaysia), Flußaufwärts (Germany), HypergeneMediaBlog (Cumming, GA), Murli

Requests from the following media outlets: MediaPost

e-mail discussion groups/newsletters: Robert Ellis, CPA (Colorado), Andy Bourland (Old Timers List)

Already reviewed:Chase Market Velocity, Two cents on marketing, Ad Jab, Dave Morgan, Risley Ranch, Internet marketing quickies, There is most certainly life after the :30 (Adrants), Pass the Kool Aid Juice (My name is Kate), Twist Image, I believe in "Life after the 30-second spot" (A New Marketing Commentator), Tom Messner in Adweek gave it a $ rating (buy), Update - "Life after the 30-second spot", WOW (Enthousiasmeren), Shotgun Marketing Blog, Lockjaw Radio Episodes 10 and Episode 9 (and counting), N=1 (main review coming any day now...),

Advice given: Aimee who pointed me towards an Adweek poll, where my book received the most votes out of books from Donny Deutsch, Phil Dusenberry, Jean-Marie Dru, Seth Godin and Kevin Roberts to be considered the next "Confessions of an Advertising Man" by David Ogilvy. WOW!; Creative Commons from Charles Dostale; My Personal Brilliance from Don the Idea Guy, Contact Lewis Lazare at Chicago Sun Times who has reviewed similar books

Julie Roehm, Diretor Marketing Communications at Chrysler Group listed LA30 in Ad Age's Top 10 list of Marketer Playbooks
Sales!!! (Direct-Link Conversion; Direct-Link Clicks; Items ordered)